When you are participating in a League game it is critical that you check that your scores get reported correctly to Orion. To verify, open up the game page in Orion's Result Center and check that your teams scores are listed correctly.
The following set of instructions assumes you have the League Game open in Orion.
Verifying Team Scores
After you team has shot and you have scanned and scored your targets open up the game page by clicking on the globe icon. This will open your web browser to the League Game, where you may verify your scores. If your scores look correct, then your team scores have been reported correctly.

Select the globe icon to open online results.
Example of online results.
Troubleshooting When Scores are Not Listed Correctly
If after viewing your team's scores online, the scores are not correct, it is time to go back into Orion and check the settings. There are a few possible problems that we list below and the solution.
Athletes are Not Listed as Team Members
Open the Match Competitors tab. In the Teams column, make sure each athlete on your team is listed with your team name.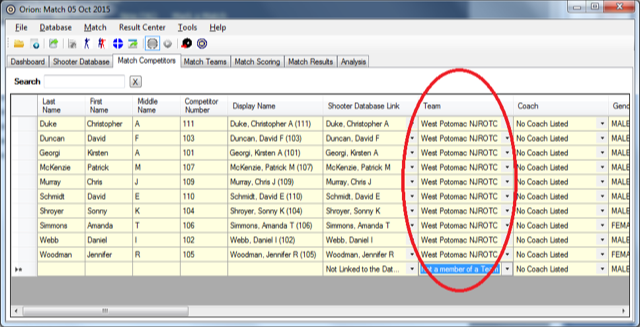 PPP Position Not Set Correctly
If you are participating in an Air Pistol league check that the PPP Position is set correctly for each athlete. This too can be done on the Match Competitors tab, under the PPP Position column.
Targets are Not Assigned to Athletes
Check that each athlete has his or her targets assigned to them. Open the Match Scoring tab, then on the left hand side expand the target tree view, click on the '+' next to target, and then next to each athlete.
Check Orion's Connection to the Server
Click on Help and then About. Near the bottom it should read, "Result Center Connection: Active." If it does not, check your Internet connection, then restart Orion and reopen the match.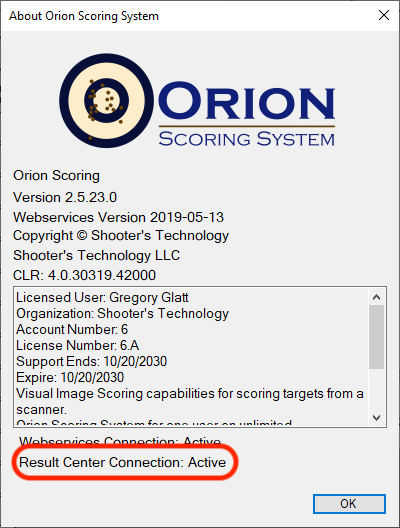 With the match open, from the menu bar, click on Result Center and then Upload Results. Orion should return with a "Success" message.