Understanding the My Matches Directory.
Orion automatically manages a series of directories on the local machine for the purpose of storing match data files and target images. The top of this directory structure is generically known as the "My Matches" directory. Underneath My Matches is a series of directories corresponding to each match that the user creates. An additional directory "DATABASE" stores the Athlete Database.
By default, My Matches is located beneath your Window's Documents folder. We recommend that My Matches be located on a local hard drive. For most Windows system this is true by default; however, it may be necessary to change the location of the My Matches directory on occasion. The most common reason is if the default location for Documents is on a network drive.
While we encourage users to properly backup their data, cloud-based file synchronization services (such as Google Drive, Dropbox, OneDrive) have been known to cause issues when trying to use Orion. This is because Orion has your match file open, while the cloud service is trying to sync the changes made. Unfortunately, this can cause errors since Orion has the file 'locked' while the match is open; thus, the sync service cannot save the changes. As this is not something we are able to change, Scopos recommends excluding your Match Directory from your sync list - you may need to reach out to your provider for more information on how to do this.
Having your matches directory located other than on the local hard drive, is unsupported by Scopos, LLC. Generally, your match directory should look like: C:\Users\[UserProfile]\Documents\My Matches
Changing the Location of My Matches.
1.Using Windows Explorer create the directory where you want the My Matches folder to reside. In general it is best to store it on a local hard drive.
2.From within Orion, click on "Tools" and then "My Matches Directory."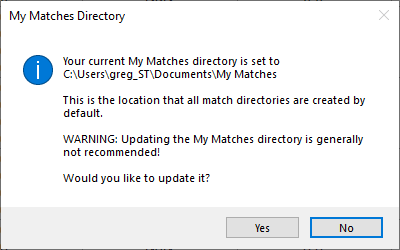 3.You will be prompted to set the new location. Specify the directory you created in step 1 above.