When you use Orion for the first time, or when you switch scanners, Orion will prompt you to set the scanner driver properties.
The following directions apply to all Canon imageFORMULA scanners (e.g. Canon C240, M160ii, or 6010C), although the interface may vary.
Canon Scanner Driver Properties
When the scanner drivers open, verify the following settings
| | |
| --- | --- |
| Color Mode: | 24-Bit Color |
| Page Size: | Match Original Size |
| Dots Per Inch (DPI): | 300 DPI |
| Scanning Side: | Simplex |
| Automatically Straightens Skewed: | Unchecked |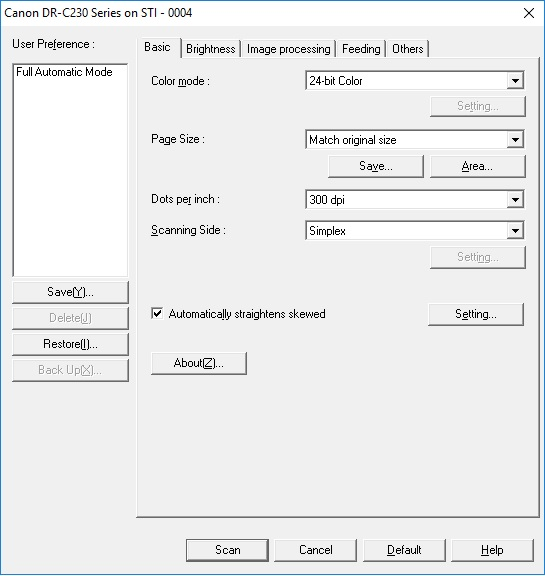 To reset the driver properties
1.Have a match open and one target that needs to be scanned.
2.From Orion's menu click on 'Match' then 'Score' then 'Auto-Score using Scanner Drivers.'
3.Set the driver properties as listed above
4.Load the scanner with the single target and click 'Scan.'
Orion will scan the target again. This time it should score the target successfully.