When Orion opens up it presents the "Welcome Screen" to the user. The Welcome Screen is designed to quickly facilitate creating and opening matches, as well as providing important information about your Orion account.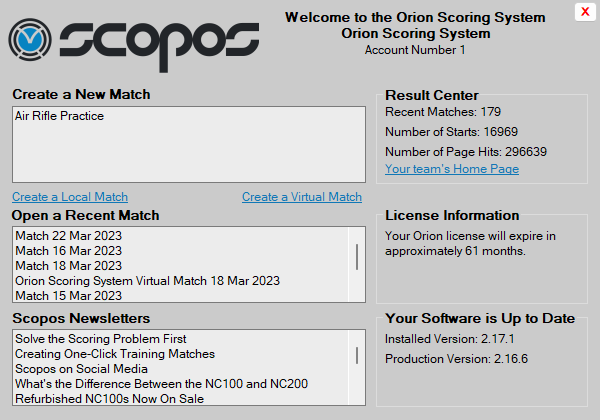 Create a New Match
The Create a New Match section allows you to either create a new match based on one of your match favorites or download a Virtual Match you have been invited to join. Both types of matches are listed in the list box. To create a match, or download a Virtual Match, simply click on the name.
Immediately below the Create a New Match are two links. The "Create a Local Match" can be used to build a custom match using the Match Properties dialogue box. The "Create a Virtual Match" is used to create a Virtual Match Parent.
Open a Recent Match
The Open a Recent Match box lists the four more recent matches you had opened. Click on the name of the match to open.
Scopos Newsletters
The Scopos Newsletters box provides links to the latest news from the Scopos website, including release notes, competitions news, and how to articles.
Result Center
The Result Center section lists basic web site statistics for matches you have listed on Orion's Result Center for the past 30 days. "Recent Matches" is the number of matches you have listed on the Result Center. "Number of Starts" is the aggregate number of athletes who have participated in your matches. "Number of Page Hits" is the number of times someone has viewed one of your match results online.
License Information
Normally this section will list how many days or months you have remaining on your Orion license. It may also notify you if your license is expired, or if you have a new license waiting to be installed.
Software Update
The Software Update section will notify you if there is a new version of Orion available for installation.