Creating a Match for Athena
Creating a match for Athena starts with creating a match with Orion. Visit Match Configuration to learn more about creating a match with Orion.
Supported by Athena
Not all of Orion's Rulebooks and Courses of Fires are supported by Athena. When creating a match to run on your Athena range make sure to select a course of fire that is "Supported by Athena". This is listed within the Match Properties form in the Course of Fire tab.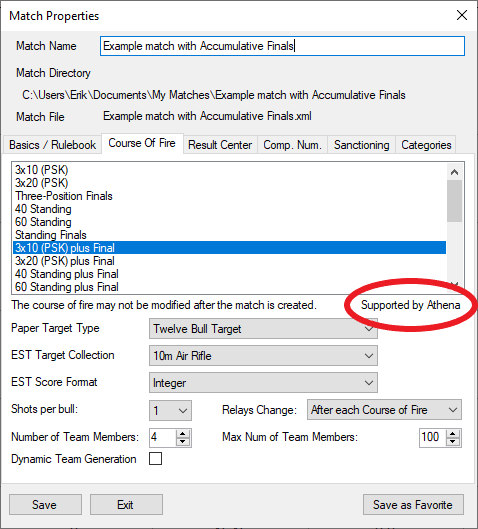 Finals
Orion with Athena supports two different types of Finals. So called "Accumulative" Finals and "Start from Zero" Finals.
•Start from Zero Finals is where the top eight athletes come back at the conclusion of qualification, and they shoot a new course of fire, all starting from zero (qualification scores don't count).
oCourses of Fire that are Start from Zero Finals will have the word "Finals" at the end. For example, "Three-Position Finals" or "Standing Finals."
oOrion uses a separate match files for Qualification and Start from Zero Finals. After Quantification, Orion can automatically generate a Start from Zero Final match file based on Qualification results.
•Accumulative Finals is when the athletes shoot 10 additional shots in the Final that get added to their qualification score.
oCourses of Fire that have an Accumulative Final will have the words "plus Final" in the name, for example, "3x20 (PSK) plus Final." In these events all athletes shoot the Final, but only the top eight athletes after qualification have their Final score count towards the aggregate.
oAccumulative Finals are being phased out of the sport. Match Directors are instead encouraged to run Start from Zero Finals.
---
See Also: