There are four potential issues which can cause this error. The first is the orientation of the targets. The second is an incorrect scanner driver setting
Target Orientation
•With the Canon DR-C225 or DR-C125 the targets are loaded such that the bottom of the targets are feed into the scanner first. The aiming bulls should face forward. That is to say, if you are looking at the scanner from the front, the aiming bulls are visible and the targets are right side up
•With the Canon P-208, DR-3010C, DR-C240 and DR-M160II the targets are loaded such that the top of the targets are fed into the scanner first. The aiming bulls should face away. That is to say, if you are looking at the scanner from the front or top, the aiming bulls are not visible
•With the Canon DR-4010C or DR-6010C the targets are loaded such that the top of the targets are feed into the scanner first. The aiming bulls are facing up. That is to say, if you are looking at the scanner from the top, the aiming bulls are visible.
Scanner Settings
Additionally, this error may be caused by incorrect driver settings. Adjusting or resetting your scanner drivers to insure the "Scanning Side" is set to Simplex will solve this issue. This can be done through the following steps:
1.Have a match open and one target that needs to be scanned.
2.From Orion's menu click on 'Match' then 'Score' then 'Auto-Score using Scanner Drivers.'
3.Make sure 'Scanning Side' says 'Simplex.'
4.Load the scanner with the single target and click 'Scan.'
Cleaning the Scanner
Over time debris and dirt may build up on the glass of the scanner, causing artifacting and smearing of the target image. Periodically cleaning the scanning surface with canned air or an electronic cleaning cloth can remedy this. Consult your scanner's documentation for cleaning and general maintenance instructions.
Scanner Brightness with Scorecards
Although rare, this error can also be caused by the scanner brightness settings being too high, especially when scanning in scorecards. Lowering the brightness setting on your scanner, may resolve this issue. With a match open:
1.Select Match > Score > Scan Targets using Scanner Drivers
2.Open the Brightness tab
3.Adjust the brightness setting one stop at a time. Example: If your default value for the brightness is set to 135, only adjust to 134 (darker) or 136 (brighter)
4.Select Scan to save your settings and to scan your target to be processed for scoring.
5.If needed, repeat steps 1-4 until errors resolve.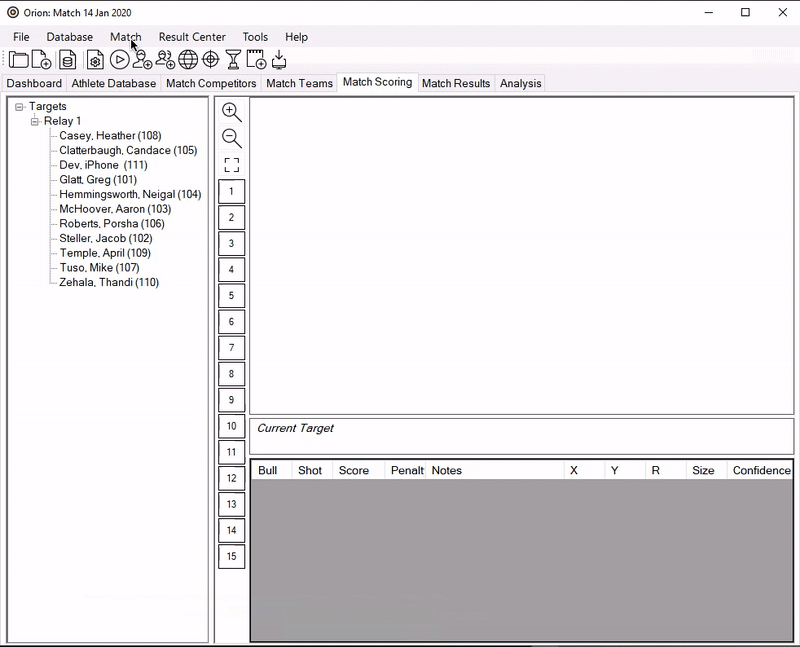 Note: If you made a number of changes and wish to reset to default, select the Default button to restore the driver settings to their original state.