In competitions sanctioned by USA Shooting, the NRA, or similar organizations, it is often necessary to track athletes' membership numbers for that organization. Orion can track any membership number using what Orion calls a "Membership Field." Tracking a membership number in a match is a two stop process: first, creating the membership field (this only has to be done once). Then, selecting to track values using the membership field in a match.
Please note if you are running a CMP sanctioned competition there is a separate process that needs to be followed. Please visit the FAQ, How do I submit scores to the Civilian Marksmanship Program? for more information.
Adding a New Membership Field
This step only has to be done once for each Membership Field. Orion by default has membership fields for USA Shooting, National Rifle Association, and the Civilian Marksmanship Program built in.
1.Click on Database and then Database Properties.
2.Click on the Membership tab.
3.Click on the Add button.
4.Fill in the information requested: Name of the membership organization and a brief Description.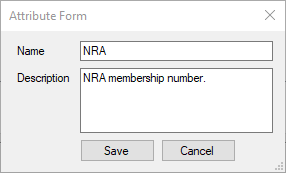 5.Click Save.
6.Put a check mark next to the new Membership Field.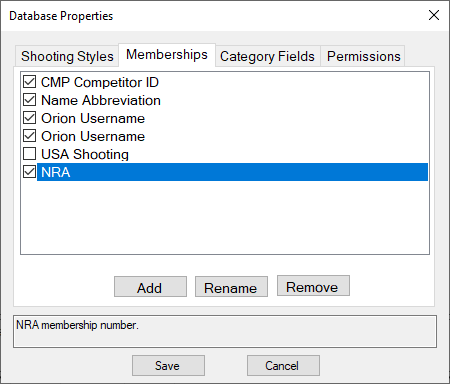 7.Click Save again.
8.Orion will add a new column in the Shooter Database with the Membership Field name.
Tracking a Membership Field in a Match
This step has to be done for each match you wish to track membership numbers in.
1.Open the respective match in Orion (or create a new one).
2.Open Match Properties by clicking on Match and then Match Properties from within the menu bar.
3.Click on the Comp. Num. (Competitor Number) tab.
4.[This next step is not required but recommended.] Select the option for "Use a sequential competitor number ..."
5.Check Separately, track Membership Field and select the appropriate Membership Field from the drop down list.
6.Click the Save button.
On the Match Competitors tab there will now be a column with your specified Membership Field name. Use this column to track your athletes' membership number for that organization.